Yii which is an acronym for 'Yes it is' is a free and an open source web application development framework. It is a high performance delivered PHP framework, written in PHP5 which promotes clean and a do not repeat yourself (DRY) design. As a result, it helps and encourages rapid development when it is applied during a project.
Yii framework is a component based design which helps in easy customization based upon the requirements during your project. So you don't need to modify but simply tweak the codes as per your requirement. Yii framework is developed to enhance the performance when applied during any project and hence it is highly sleek and sophisticated to use.
Yii framework comes with packaged tools that helps you while testing and debugging the web application that you are working upon. Along with that, it also has a way with documenting which is clear and crisp.
The benefits of using the Yii framework:
Yii is the fastest PHP framework that is best suited to create large scale Web2.0 applications.
The Yii framework is easy to configure and apply it to your web application development.
It has inbuilt security features like cross-site scripting prevention, cross-site request forgery prevention and cookie attack prevention. Moreover, it also includes client side and server side validation.
Yii framework has a best caching feature as compared to other web application development framework.
The Yii framework boasts of minimum testing time with friendly third party coding.
Easy to customize as the code structure is highly simple to understand and use in Yii framework.
What we offer
We understand the capabilities that Yii framework has and hence we have a solid, highly professional and dedicated team of highly qualified PHP developers who are energetic about working on the Yii platform. Right from the initiation till the project is completed, our team of experts will provide a dedicated support until the application is tried and tested for performance and quality. The experience that the team brings helps in giving you the best experience, excellent services and solutions while developing an application as per the client's requirement.
So why would you like to work with us?
For a team that is rich in experience and who is able to handle all the PHP framework apart from Yii framework.
For a super efficient team who works to give the best to our clients and to deliver a simple, automated and secure applications that matches the client's requirement.
For an affordable and innovate application development solutions without compromising on quality.
For bringing the constant changes in the world of technology to you with our innovative solutions.
So why go somewhere else, when we strive to achieve customer satisfaction at every stage of your application development!
Recent projects
Negricases
Expand to become a trustworthy and highly recognized name in the music industry.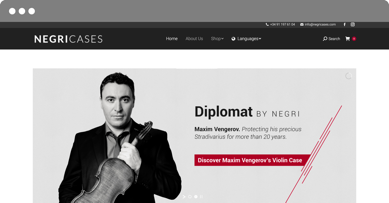 Rimacinstallations
Rimac Storage Systems is a Queensland based, privately owned company