Joomla is one of the free and open source Content Management System (CMS) which helps in managing the content of your website. Apart from that, it also helps in building a website and various other applications that help in a better management of the content. Joomla is a community developed software and hence freely available for people to update to Joomla for better CMS. Joomla is being used by numerous organizations who have large and enormous content to manage. The reason it is so famous among organizations is its easy-to-use features, high flexibility and more importantly, it is written in PHP, a widely used scripting language. Joomla has the flexibility of it being used on any kind of website that you want to build. So be it a news website, e-magazines, corporate websites, blogs, government sites or e-commerce websites, you can use Joomla and develop your site exceedingly well. Here are some of the benefits of developing your site using Joomla:
Joomla uses HTML to create the content and MySQL to store the content in the database.
Joomla is 100% free
Joomla is highly flexible and hence can be used on various platforms like blogs, news sites, e-commerce sites and various other portals.
Joomla also allows you to create beautiful templates for using it on your website.
Joomla supports many languages and it also allows you to easily convert an alien language to a known language.
Joomla allows for easy customization without any threat of loss to your content.
Joomla has an easy backup system to restore your content to previous level.
Joomla also has an excellent support for Android and iOS platforms.
What we offer
A team of experienced and skilled developers certified in Joomla Development caters to all your needs of CMS. The team always strives to innovate something new based on the client's need and customize Joomla for best results. Our Joomla development solutions are highly secure and feature rich that never fail to give an overwhelming performance. We focus on the following list of Joomla Development Services:
Joomla website development with a complete CMS solution
Joomla designing and integrating it to the website
Joomla custom template and theme development
Porting website from other frameworks to Joomla
A complete Joomla customization based on your needs
Joomla website maintenance and support
Apart from the above services, we also offer Joomla module development, its installation and configuration along with third party integration. Along with it, we are also open, in case you are simply looking to hire one of our professional and highly qualified Joomla experts along with other developers. Moreover, our team of professional Joomla developers work diligently to create a website that is perfect for your needs and business based on the specifications that you provide. Also, we provide continuous support and maintenance till you are satisfied with the services provided to you.
Recent projects
Helihobby
We grow businesses through custom web design and digital marketing plans.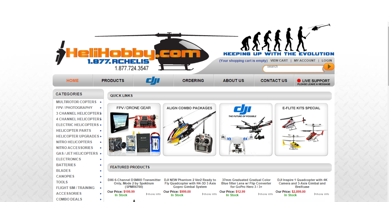 Professional Styling Academy
Professional styling academy provides professional style courses to people.