Social Media Marketing is basically about increasing your business and exposure through social mediums like Facebook, Twitter and Google plus. About 76% of the internet users use social media and you should too because your customers expect you to be there.
Most of the time, to implement social media strategies you require a change in focus and attitude in the way you capture your audience, which has often proven a bit difficult for many brands. And that is why you need an experienced and qualified company like us to help you guide through the way.
Why you need Social Media Marketing
Social Media gives you the means to connect with numerous prospective clients but this can only be done with a strong business strategy and online marketing tools that have the capability to give an effective return on investment.
An effective social media strategy can help you connect with the most relevant niche and in turn give profit. Counting the number of followers or likes is easy, but what you need is a higher engagement rate, thus getting a retention. You might be getting more and more followers every day, but if the people that follow you are not interested in your content then those followers are of no use at all.
With effective social media marketing, you can have a better engagement rate and a much better retention.
What we offer
By collecting and analysing the right data, we can help build a long term success plan to make your brand more recognisable and accessible to future customers. We follow a system of metrics and measurement, we make sure that you can measure the results even before you spend anything on your social media campaign.
There is no doubt that an effective social media strategy is a big, elongated plan and we are not the ones who come marching in a room with pre-planned packs that are going to do you no good. We make sure that we listen to you, understand your requirements and then create customized plan just for you.
Here are some of the social media services offered by us –
Social Media monitoring
Facebook marketing
Twitter Marketing
Linkedin Marketing
Pinterest Marketing
Google Plus Marketing
YouTube Marketing
If you are ready to start getting your business noticed on social media then its time for you to contact us so that we can make sure that you stand apart from your competitors and thrive.
Recent projects
Rimacinstallations
Rimac Storage Systems is a Queensland based, privately owned company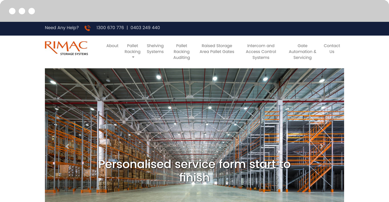 Socially Smitten
We grow businesses through custom web design and digital marketing plans.