In recent times, users demand real-time applications, and to fulfil these demands require equally capable technologies, such as Node.js underneath that efficiently work with different loads and complexities.
We Help You Create Powerful Node.js Applications in Australia
Node.js is one of the most popular web development platforms that is backed by the most popular web language – JavaScript. Being a server-side run-time environment, it offers extraordinary features to develop scalable resources quickly and efficiently. At Inventive Media, our dedicated developers have proven expertise in developing robust applications that are backed by high-level domain knowledge. Whether you are looking for a Node.js development company in Brisbane to work on your mobile, web or real-time application, we associate with you right from the project inception to the finished product.
Over the years, we have created high-speed, lightweight and fully scalable applications for many businesses in Brisbane. That has been possible majorly because of our ability to use the features and functions brilliantly, and in a way that reap maximum benefits.
Notable Benefits of NodeJS Development
Highly Scalable
Developing server-side app can be challenging, especially when it has to be scalable. Node.js uses a single thread to manage non-blocking I/O calls and enables the server to process requests smoothly. With this feature, you can easily scale the application horizontally across numerous servers or vertically to boost its performance on a single server.
Rich Ecosystem
Node.js has a huge ecosystem, consisting of about 837,000 open-source libraries that can be accessed anytime, anywhere. Node.js environment provides developers with everything they need to build a robust and feature-rich application.
Single Coding Language for Front-end and Back-end
With Node.js application you don't need to use separate language for the front-end and the back-end. Developers can write Javascript for both server and client. Unified coding language and less programming enable faster application development.
Fast Time to Market
Time to market is a crucial factor to consider for the success of the app. With higher development speed and simplified processes, the development times can be shortened, allowing businesses to launch the app faster in the market.
Create High-performance and Real-time Apps
Node.js is particularly designed for its ability to multitask. Bi-directional communication channels are important to deploy in order to resolve low latency issues that are crucial for apps, such as video conferencing, VoIP and chatting apps.
Great Community Support
With hundreds and thousands of developers using Node.js, you can receive extensive support and solution for even the most complex problems from a vast community of Node.js developers that is continually growing.
Why Should You Choose Inventive Media for Node.js Development?
Dedicated Team
We have expert developers on board who specialise in Node.js application development. Our developers follow the best industry practices and take care of your end-to-end app development needs.
Huge Working Experience
Over the years, our developers have acquired an immense experience developing Node.js applications for companies across a wide industry horizon. They are competent in developing scalable applications understanding that business goals evolve with time and so should their solutions.
Priority Support
Support and maintenance are a critical part of our company's success. We offer extended support and maintenance service that goes beyond project delivery, offering more value to our clients.
Flexible Approach
We aim to leverage Node.js that enhances our client's business. Hence, while discussing app features and functionalities, we also let our clients choose and customise web server tools according to their requirements. If you are planning to create a feature-rich Node.js app, get in touch with us today. Our Node.js experts are readily available to discuss how you can transform your idea into reality.
Recent projects
Canvastco
We make Kick-Ass Dateless Planners for Boss-Women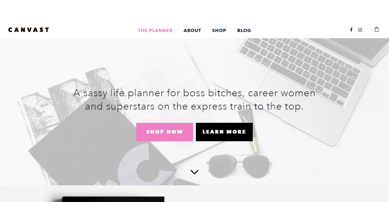 Negricases
Expand to become a trustworthy and highly recognized name in the music industry.