Your corporate website is the frontier and spread that details your company's character and services or products you specialize in.  A direct, clear, concise interface that's clutter-free to use and readily conveys information to visitors and customers is the foundation of a good corporate website. Picking and sticking with the right layout, using the proper graphics and design while choosing the colors that are relevant for your brand and company adds to the foundation, going a long way in making an excellent first impression for visitors landing on your website.
What we offer
Our varied team of experts specialize in creative online solutions for companies of various kinds, with different profiles. No matter the industry, we offer comprehensive, tailor-made solutions and services to enhance the standing and perception of your company on the internet. We help develop and create the aesthetic that's befitting your company in cyberspace while ensuring that functionality is key, by amalgamating it with the resources and information that your customers of past, present and the future, seek. We have put together a team of vibrant, creative professionals who have an extensive body of work and the knowledge to help develop effective web portals that are pithy, just as they are consequential. Moreover, our team stays ahead of the curve in analyzing and inculcating emerging and new trends in Corporate Web Design to constantly be aware of how your customers plan on making use of your website while highlighting the significance and profound impact of your products, services and your brand to their needs.
How we do it.
We implement a specific, exhaustive process to deliver and create Corporate Web Design that goes par excellence. We partake in such measures in order to understand the breadth of your company's values, goals and requirements, while constantly having your customers' needs and expectations in mind. With an inquisitive consultation process, we ensure that your goals and vision are highlighted and understood, before setting to task with the conceptualization of your company's online presence through your website. An exhaustive, far-reaching process of analysis and comprehensive research follows in order to see the where and the how in which your company can make an entry into cyberspace. We do this while trying to set you apart as a unique destination for customers, among your competitors in the marketplace. Planning and drawing up sketches and designs comes next, having all the necessary information at hand, thanks to you. The planning process goes hand in hand with innovation that's at the forefront of our design team's collective ethos. Innovation that's even more profound while implementing it for corporate web design that will lead to tangible results for your company. With our design architecture, we implement the most functional and up-to-date technologies to make the visitor's experience one to remember and re-visit, by having you bookmarked. Finally, we go through a process of implementation that's delivered on time, every-time, to help your website go live on the internet. We don't quite stop there either, as the key to a healthy web presence is proactive monitoring and updating of information and the website in general to ensure that the sustained longevity of your company's future on the internet is secured. Write to us. Contact us. We'd like nothing more than to help you achieve the best for your company when it comes to corporate web design.
Recent projects
Rimacinstallations
Rimac Storage Systems is a Queensland based, privately owned company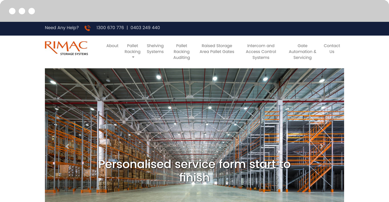 Negricases
Expand to become a trustworthy and highly recognized name in the music industry.