Mobile apps are native applications that are specifically meant for mobile operating systems such as iOS, Android and Windows phones. And while each of these platforms require a different development process, what comes before the development process is even more crucial. And that is designing of the app. These applications bring a concept to life with beautiful designs.
Why is design important for an app?
With so many apps out in the market, designers are using all their creativity to design and develop apps that will stand out.
Navigation plays an extremely important role, and if the design is complicated, this complication will trickle down to the navigation as well. In a mobile application, the navigation around the app needs to be easy, simple, quick, crisp and to the point.
When we say simple, we don't mean that the app should look less attractive with fewer colors or lesser features. Keeping an app simple means anyone should be able to open the app and navigate through it without having the need to read through instructions or guidelines. Colours need to be used effectively, typography needs to used meritoriously, the colour scheme shouldn't hurt the users' eyes – vibrant colours with a fine contrast is a good start.
What can we offer?
We understand that the ultimate aim of an app is to drive continual engagement, and this is possible only if we have the core mechanics of the product in place. In addition to this, the app is sure to perform its best if the branding along user experience and user interface is not compromised at all.
In order to make sure, we're giving you our best, we like to step into your shoes for a few days to understand the importance of the app. Based on what we gather, we will begin the planning process where we find answers to questions:
What is the use of this app?
Where will it be used?
And for how long?
Once this is signed-off, the next step includes making a list of screens and interactive features that you'd like your app to be made up of. Our team of experts will then draw up a wireframe. As our designers and developers also suggest, putting together a workflow and a wireframe becomes extremely important to avoid any kind of workflow issues.
Our designers take refuge in the belief that it's important to put pencil to paper before starting any project. We prefer scribbling down some ideas in the beginning so we can go back to it whenever needed. This helps in deciding whether we still need a few screens or not, or if we should be adding/ omitting any features that might now appear to be irrelevant. It also helps put together a nice and clean UI design.
We believe in setting aside a good amount of time in wireframing and other planning. It enhances the planning process and helps in avoiding mistakes in the long run. It most definitely pays off.
Recent projects
Professional Styling Academy
Professional styling academy provides professional style courses to people.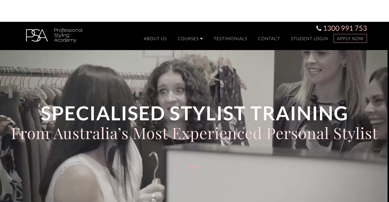 Helihobby
We grow businesses through custom web design and digital marketing plans.