A landing page is meant to captivate. It's meant to quickly grab the attention of a visitor who is likely to visit your website for the first time through marketing or ad campaigns. The design and means to setting up a normal web page and a landing page is similar but for one fundamental difference. There is a purpose to every landing page with the target of landing a visitor and getting him or her to take up on the task you have intended for the visitor. Routinely, these tasks are often simple and could involve the filling up of a form or simply adding and sharing of visitor's email addresses. If you're looking to promote your product or business online, landing pages make for excellent marketing tools. They intrinsically help in diverting and rerouting web traffic toward the goal that you're looking to achieve.
The Need for a Viable, Effective Landing Page
If you're allocating a big chunk of your marketing budget toward advertisements without implementing a good landing page, it adds up to money being wasted. Fundamentally, any visitor who visits your website after having clicked on an advertisement and leaves, without taking action is a failed marketing endeavor. A good landing page has instant appeal which readily provides a visitor with all the pre-requisites it takes to keep them on, in order to follow your desired action.
The way we do it.
By assessing your advertisements and the way they're linked to your product or service through your website, we ensure that landing page delivers on its promise in providing visitors precisely what they came looking for, within seconds. Our design and content team ensure that the
headlines and banners
which show up on the landing page are clear, crisp and concise, with no room for miscommunication. While web design is critical to a landing page, so too is
copy-writing
. Great copy-writing. Conjuring the right words before putting them together in order to sell your service or product to a first time visitor. Our landing-page team comprises of design experts and creative copy writers who will help convince potential customers into taking action. The action you choose for them. Through a rigorous
testing method
, we then run simultaneous drills as an overall experiment using multiple landing pages to assess performance and results. Headlines, images, media content such as video and images along with other variables are put to the test. It is after this process that we conclude upon working on the most viable landing page that works for your company and product.
Our services.
With an in-house web design team working in tandem with our landing page developers, we have the means to provide a comprehensive, effective marketing solution for you. Our services include:
Excellent landing-page designs.
Great copy content.
An experienced design team.
Dedicated maintenance and support.
Write to us. Reach out to find out how we can help grow your business with an effective landing page campaign.
Recent projects
Canvastco
We make Kick-Ass Dateless Planners for Boss-Women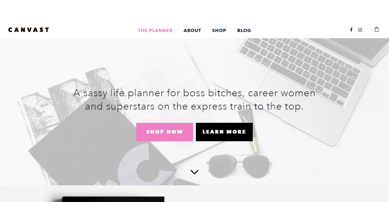 Helihobby
We grow businesses through custom web design and digital marketing plans.