If you're a programmer, business owner or even a website consultant looking for creative and capable talent in web design, your search for a dedicated web designer ends here.
We deliver. Every time.
We have a highly skilled and experienced team of web designers that are available to hire on short notice and come with the credentials of handling multiple complex projects across a varied spectrum of clientele. Our design experts have a wealth of experience across a varied range of services, enabling them to be entirely proficient and capable to proactively find ideas and deliver results to help your business' online presence grow in smart ways, with significant tangible success.
We take pride in our services and talent and are supremely confident of our designers as dedicated, full-time professionals when you hire them. Quite simply, they'll seem like your own employees, adhering to the codes, values and vision of your company when they're hired by you for a duration of your choosing. Our dedicated design team work from our development center locally, which helps ensure you avoid overhead costs which you'd otherwise incur in hiring your own employees.
Why you ought to choose us.
Our talented team of web designers are well-versed and highly skilled in programming and design software. That list includes:
Adobe Photoshop, Dreamweaver and Illustrator.
CSS2, Flash, XHTML, JavaScript and other action scripts.
MS FrontPage, CorelDraw and Image ready, among others.
You're the owner of the code and creative output our designers conjure up, as your copyright. The design, templates and the output of our dedicated designer is entirely owned by you as a copyright by default. Our dedicated web designers are available to work on quick, short notice. 8 hours a day. 5 days a week. Depending on your choosing, you will get streamlined work updates on a daily and/or weekly basis. At the time of hiring, a non-disclosure is signed with our developers and designers, in tandem with a Confidentiality Agreement or a Non-Disclosure Agreement. This is done to ensure your trade secrets and ideas are safe and entirely yours. Always.
We also foster an environment wherein creative copywriters, capable SEO experts and adept content writers along with developers can interact with the dedicated web designer hired by you to achieve a product that has the propensity to exceed your expectations.
For more information, relevant quotes and any queries, write to us. We've got your design needs covered.
Recent projects
Helihobby
We grow businesses through custom web design and digital marketing plans.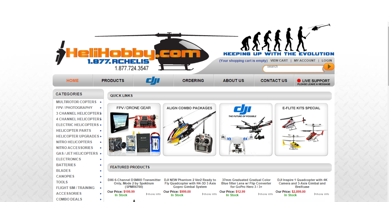 Style With Cindy
Australia's foremost personal stylists and makeover expert