Simplify Your Complex Business Processes with Custom Software Development
Leveraging the latest available technology, our cutting-edge solutions have helped numerous businesses solve their complex business challenges and optimize their internal processes.
We build 100% custom software in Australia that is specifically designed for your business
With hands-on experience in Nodejs, Java, AWS, ReactJs, React Native, PHP, Laravel, Angular, Flutter and many other emerging technologies we deliver modern custom software development services, to our esteemed clients in Australia. Custom applications are developed to automate business processes that enable you to save time and money along with increasing efficiency. Inventive Media is backed by a dynamic team of software designers and developers who have in-depth knowledge and technical expertise in building efficient and robust systems.
Proof of Concept
Before actually beginning with software development, our developers will test the validity of the software idea. They conceptualise the proposed system, and offer invaluable insight on how the product will work in real life. Our developers will further analyse all the technical aspects and feasibility of the proposed system in order to identify potential problems and suggest suitable solutions, eliminating unnecessary risks in the future.
Carrying out POC can help:
Ensure the chosen workflow plan is correct
Figure out the limitation of the solution, and ensure it is practically possible to execute
See whether the proposed system meets user needs
Save your money by not spending on anything that is not viable
Minimum Viable Product
To make sure your application gets to the users faster, MVP is the best way to start the project as it enables agile software development cycles. With sufficient sets of features, our developers will create MVP to attract early-adopters and receive their feedback as quickly as possible to iterate and improve the final product. The crucial feedback from the users will help your product become even better in the next development cycles.
Creating an MVP can be useful in:
Testing UX and application usability
Better understanding of customer needs
Saving your project time and money
Minimising development risks
Product Development
Leverage our expert software development team to build, implement or upgrade your product that addresses your business needs and fulfil business goals. It encompasses everything from brainstorming the initial planning stage to strategically building the software and releasing it to the market and ultimately, measuring its success.
Efficient product development can help you:
Optimise business processes
Offer custom solution
Get a competitive edge
Create a highly adaptable product
Tailor-made Software Development Solutions
Software Consultation
Our software consulting team suggests practical solutions to your problems in order to turn your dream product into a reality.
Custom Software Development
We offer custom software solutions to both small as well as large businesses to optimise their processes, improve employee productivity and boost brand value.
Custom Mobile Apps
Attract hundreds and thousands of customers through engaging brand experiences by creating professional crafted mobile apps.
Software Migration Services
Migrate your existing software to leverage the advanced custom software technology to improve efficiency and reduce management cost.
Software Testing Services
Our software testing experts and QAs rigorously test the application to make sure it performs the way it is supposed to be, along with validating that it is bug-free and meets high security standards.
Software Support and Maintenance
Get flexible software support and maintenance services to make sure your software is highly stable, always available and delivers optimum performance. Your business needs are unique, so your software solution should be. Get in touch with us today to identify new opportunities and fine-tune your digital tools that reap the maximum return on investment.
Recent projects
Negricases
Expand to become a trustworthy and highly recognized name in the music industry.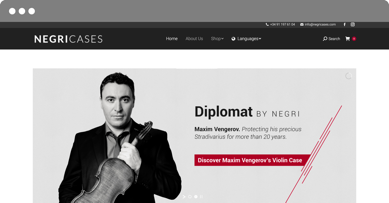 Canvastco
We make Kick-Ass Dateless Planners for Boss-Women