As the name suggests, Zen Cart is basically an online store management system where it provides a free and an open source shopping cart to its customers. It is PHP based, using a MySQL database and HTML components. Zen Cart offers to provide support in the form of multiple currencies and numerous languages, thus making your business a truly global one. When you are using Zen Cart, you can be assured of providing your customers with a seamless and hassle free buying experience for the customer. Along with that, it also helps you in retaining your customers, thereby, enabling you to build a perfect business opportunity. Zen Cart has evolved over time and is now known as one of the most trusted and versatile solution for all your e-commerce cart needs. With Zen Cart, you get to enjoy the super-rich features which are built keeping in mind the user and giving them the best experience while browsing your e-commerce website. The following are the few benefits you can get by applying Zen Cart in your e-commerce website:
Easy to use shopping cart system for all
Highly customizable, right from the grid layout to the price
Checking out without having to create an account.
Consistency with it comes to payment options
A highly secured checkout with proper billing system and confirmations available
It offers benefits of dual pricing like retail and wholesale price
An attractive user interface
What we offer
We understand that when it comes to e-commerce, building a good and a customer friendly website is the key. Along with that, the ease in which you can add products to your cart defines the overall customer experience. It is from adding the products to the cart, proper billing and applying any discount codes that builds a loyal customer base for your e-commerce business. Hence, to build an e-commerce website that is easy to navigate and use, we have a team of professional Zen Cart developers who can program the cart according to your needs by keeping the user in mind and also help in developing an e-commerce website. Our Zen Cart developers are always up-to-date with the latest developments and business trends in the e-commerce space which helps in a complete Zen Cart development service to our clients. We offer an affordable Zen Cart website development solution for all your online shopping needs. We deliver customizable options that go hand-in-hand with your online business which involves customizable programming too. Having a team of qualified engineers, we always strive to put the best foot forward and bring a complete Zen Cart development solution right from programming to shopping cart designing, installation, application, integration as well as migration. We also provide a complete Zen Cart SEO and maintenance services by offering maximum services at minimum cost. So leave it to us and see your e-commerce site grow and function hassle free.
Recent projects
Canvastco
We make Kick-Ass Dateless Planners for Boss-Women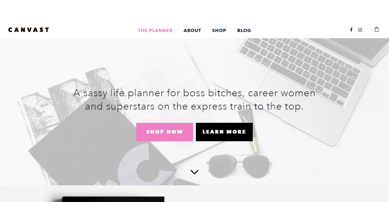 Rimacinstallations
Rimac Storage Systems is a Queensland based, privately owned company