WordPress is one of the oldest running free and open source Content Management System (CMS) which is based on PHP and MySQL. WordPress started in 2003 to grow as one of the largest self-hosted blogging tool for people across the world. WordPress is highly customizable and can be used in any way as desired by you. Although WordPress started as a merely a blogging platform, but over the years, it has grown into a full fledged content management system.
Here are some of the benefits of using WordPress to power your website:
WordPress is easy to use with intuitive UI with features to add pages, blog posts and comments apart from plenty of other things that make your website user friendly and inviting.
WordPress is developed in such a way that you don't need to sit and edit the HTML for using its rich features as mentioned earlier. So it saves time and things can happen all with a single click.
WordPress is highly search engine optimized and there is no doubt that search engines love sites hosted by WordPress.
With WordPress the power lies with you. You are free to make any changes without being dependent upon your web designer to some extent.
WordPress is highly customizable in terms of its design. So if you feel like having a different and a more appealing design, then you can easily customize it.
WordPress comes with an inbuilt blogging platform and can be easily integrated with your WordPress website.
Also, WrodPress makes everything possible by using various plugins which are more often than not freely available to use and implement into your WordPress site.
So why us?
We offer a complete WordPress solution to you, right from designing to customizing the site as per your business needs and optimization. We have a team of highly skilled professional web designers who are experts in WordPress solutions. So from developing a simple one page website design to a more advanced and professional e-commerce website, our team is capable to handle all your web designing needs.
What we offer to you:
A complete website development on WordPress which is responsive and gives the user a better experience while browsing the site.
Custom WordPress themes along with SEO and plugin customization with third party integration for your WordPress site.
A complete website designing that accentuates the look of your website depending upon your business needs.
WordPress customization which includes seamlessly integrating third party applications and plugins for a better functionality of the site.
A holistic e-commerce solution using WordPress.
A complete WordPress maintenance, upgradation, bug fixing and support right from developing the website as we understand that not all clients are adept with technical knowledge to maintain the site.
Our WordPress themes are highly responsive and can adapt to mobiles seamlessly. Moreover, we give you a project manager to hand hold the project until it is delivered. So avail our services and we are sure you won't regret even a bit!
Recent projects
Professional Styling Academy
Professional styling academy provides professional style courses to people.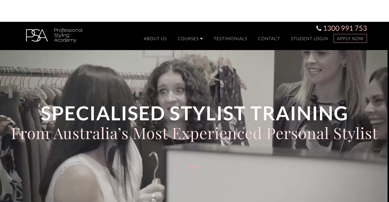 Rimacinstallations
Rimac Storage Systems is a Queensland based, privately owned company