When we talk about redesigning a website, the first question that might pop up is why the need to redesign an already existing website? It's established that a website is the cornerstone of any business. It's about giving your visitors exactly what they're seeking without causing any inconvenience. By redesigning, we take a step back, analyze the past performance of the website, and start rearranging the content to give your visitors a more immersive experience.
Why is redesigning important?
With the growing number of mobile and tablet users, you will make the most of your website only if it is a responsive design. In fact, it's all the more important to ensure that the website functions better on the mobile so you can retain a visitor's attention and eventually capture leads. Also, when you choose to redesign a website, it's a good time to take stock of the pages that have performed well (Or we could do it for you ), as well as the ones that didn't see too many visitors. While this might be a time-taking process, it's vital. Content forms the backbone of any website. Hence it's equally important to revamp the content to match your new brand and vision. Lastly, you want to be discovered when someone runs a search for anything you offer. Here's where SEO plays an important role. When redesigning a website, you will also have to ensure meta descriptions, the right amount of keywords to get rolling.
What we offer
An effective redesign is more than just creating a new look; it's about generating more visitors, leads and eventually, customers. The redesigning process has two stages – planning and designing. Our expert teams will help you put together a strong plan that will smoothen the entire process by focusing on what you are actually trying to achieve. You must be wondering how we plan to put together all of this, and who will be the key persons involved in making this happen. First and foremost, in order to ensure that each user gets the best experience, we will have to marry our content and UI/ UX teams. While the content team will help restructure the existing content and create new content, the UI/ UX team will lay focus on how this content should flow on the website. Once we get a sense of how the content on each page should pan out, the UI/ UX team will meet with our graphic designers to give you the best looking website. This will begin by building a wireframe. This is done so you get a sense of how the website will look like in order to retain users' attention. Our designers will then begin designing the unique pages before our web development team carries this process forward. Among our developers will be a front-end developer and back-end developer – each with a different set of responsibilities. While the front-end developer will focus more on the look and feel of the website, the back-end developer will lay more focus on the functionality of the website. And don't worry; we're going to thinking mobile first.
Recent projects
Rimacinstallations
Rimac Storage Systems is a Queensland based, privately owned company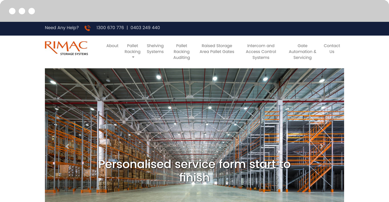 Professional Styling Academy
Professional styling academy provides professional style courses to people.