We have seen a surge in e-commerce business over few years with many startups and businesses eyeing the e-commerce space with a huge content. Magento development helps manage the content of these e-commerce websites.
Magento is an open source Content Management System for e-commerce websites. It is one of the leading forms of e-commerce today. Magento uses PHP and MySQL for its scripting language and database needs. The unique feature of Magento is that it allows to make changes in the data structure without the need to change the entire database. This is supported by storing the data objects in a tree like structure which makes it easy to make any changes in the data structure.
Magento provides distinct platforms, community edition and enterprise edition. The community edition is a free platform where developers can add and modify the core files without any charge. The enterprise edition is rich with features and functionality and is not free to use unlike the community edition. Magento offers great flexibility in not only the way you design your e-commerce site, but also the way you present your products.
Here are some of the benefits using Magento for building your e-commerce website:
Magento is highly customizable when it comes to content management on the site.
Magento offers a seamless transition from a web based site to a mobile based one and also friendly configuration on your mobile.
The Magento platform can offer support up to 5 lakh products on a site with the order handling capacity of 80,000 per hour.
Magento platform is built keeping in mind the latest SEO techniques by building prompts to the customer on a timely basis.
Magento offers for an easy third party integration along with the filtered search option for the customers.
What we offer
We have a team of experienced and professional Magento website developers who can cater to your needs based on specifications. We strive to achieve a cordial relationship with all our clients and aim to give our best each time the client look up to our services.
We can help your business with:
Developing an e-commerce strategy that fits your requirement and the best practices used to optimize the reach and revenue from your e-commerce website.
Having an engaging web interface and design that leaves a mark and appeals to your customers.
Developing a Magento store or a website for your business.
Magento hosting
Customizing template and ensuring that the template is Magento optimized.
Having a secure payment gateway
Highly optimized marketing tools
So if you need an online presence to stand out from the crowd, you can contact us immediately. Along with our highly qualified team of developers and certified Magento professionals, we ensure that your brand excels on all fronts by applying innovative strategies and custom made solutions.
Recent projects
Professional Styling Academy
Professional styling academy provides professional style courses to people.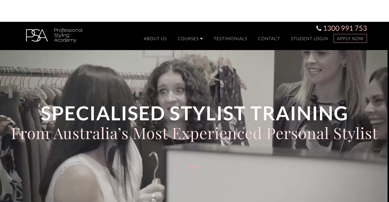 Rimacinstallations
Rimac Storage Systems is a Queensland based, privately owned company