VirtueMart is one of the Ecommerce frameworks, which works on Joomla platform. VirtueMart is not a stand-alone solution. But it works with the most used open source CMS (Content Management system) such as Mambo and Joomla. This works as a plug-in.
Here are few features of VirtueMart that are advantageous:
Easy to install: The shopping carts and rates are configured in a most flexible way. Unlimited number of categories and products can be accommodated. This uses AJAX as basis for shopping cart so that the best shopping experience can be assured. It is not a very heavy application in terms of complexity. This system can also support various coupons. VirtueMart comes with easy web administration that is empowered by java script.
User friendly: This is an intelligent system where multiple prices are listed on the basis of other sellers on the same website or the shopping history of the customer. VirtueMart also accommodates secured and easy payments. Comes with quick view option to provide a glimpse of product specs and images. VirtueMart makes the system easy to implement and navigate.
Clear and accurate reporting: With VirtueMart, you get easy reporting with sales and revenue history. Auto publishing facility of reviews and ratings of the products. Also multiple currency transactions are supported.
Smart System: Multiple payment gateways can be utilized. This way, customers can use their Debit cards, Credit cards or net baking option can also be utilized to pay for the purchases. VirtueMart also supports multiple languages so that customers can find it easy to navigate. It provides intelligent search feature to accommodate search by discounts or product categories.
Easy Customization: Shopping module can very well be extended so that the emerging requirements can be accommodated. It has an intelligent control panel that is displayed for the sellers or website owners. It will have the summarized information about number of new customers, their priorities, their purchases and stock details.
With our amazing robust team, we make sure to provide you with a complete satisfactory experience. We provide 24/7 customer service, which will create a hassle free communication environment. We are also well known for the timely maintenance service we provide to our customers.
Recent projects
Canvastco
We make Kick-Ass Dateless Planners for Boss-Women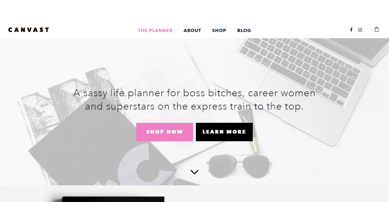 Negricases
Expand to become a trustworthy and highly recognized name in the music industry.