There might be customers looking for the exact solutions you offer, but the question – are you and your services as easy to find as you think? In the world of search engines and social media, just creating a website and opening up a business is not enough. You need to create a digital footprint among prospective customers. With our integrated solutions focused on today's digital playground and an in depth understanding of your marketing objectives, we can help you achieve the exposure you have been looking for. We achieve it by understanding what your customer's journey is from consideration to purchase. Not only that, we help you develop an online marketing strategy to make your business not only easy to find but also inspire action. With today's online market getting more competitive than ever, you need an internet marketing strategy that helps your company become the 'best solution' wherever prospective customers may be looking for – be it search engines or social media. We follow a complete transparent approach when it comes to internet marketing by always keeping the customers in loop and providing them updates periodically. Not only that, we take a custom approach to each and every one of our customer by first understanding their marketing objectives and then implementing them all together.
Recent projects
Negricases
Expand to become a trustworthy and highly recognized name in the music industry.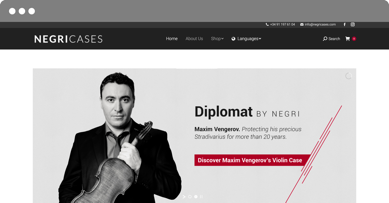 Professional Styling Academy
Professional styling academy provides professional style courses to people.