We are a company specialized in design Magento custom module development and custom Magento theme. We provide ingenious services with the aid of Magento developers and designers for shop owners in every part of the world. We also provide the services which are available for exodus from estate shopping cart system to Magento by custom Magento extension developers.
The options that is available in Magento are-
Bulk product upload
Dropship shipment
Flash sale
Social media connection
Daily deal
One step checkout
T-shirt design module
Shipping label generator
And many more…
We are absolutely accomplished and adroit at developing Magento template, Magento custom module, Magento custom solutions, Magento customization for all the above mentioned and any other customization that are possible in Magento. Many blue- chip companies hire Magento developer from us. Magento has ample power of creating engaging, rich customer experiences with an e-commerce solution which grows with you. Magneto not only helps in your online revenue, it also drives conversion, entice more traffic and also retain more clients. Our solution is capable of easily upgrading to abutment your growth and degenerate transactions.
Why choose us for building your Magento website?
Magneto e-commerce development and design
We provide you strong and effective online store within a month's time using one of the strongest Magento e-commerce solution which has earned global recognition for leading open source system.
Magento Search engine development for online store
In case you want your Magento online store to function like Magento seo services, advancing and amending it for Yahoo!, Google, Bing and other search engines is a prerequisite.
Marketplace in Magento
In today's date, all the shop venders and stores require a market place for their business. We make it very flexible and easy and give all achievable e-commerce services. We are expanding a kind of market place where seller can sell his own products and goods.
Flash sale/ Private sale in Magento
Our experts and professionals offer you validated membership site on Magento community with customization which includes events, private sales, reward modules, easy store management and invitations along with Magento based site access authorizations.
Payment Gateway Unification
A payment gateway is a third party software (or entity) which advances the information of payment entered by a client on an ecommerce website. The gateway advances these payments in favor of the ecommerce merchant.
Recent projects
Negricases
Expand to become a trustworthy and highly recognized name in the music industry.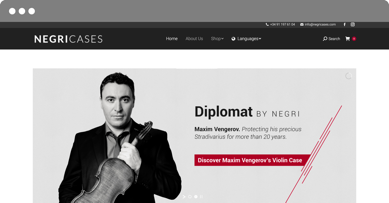 Canvastco
We make Kick-Ass Dateless Planners for Boss-Women